If you wish to schedule a zero-gravity flight
onboard the IL-76 with us, there are two options:
Without gravity, there no longer is up or
down neither are objects heavy or light-
weight. Get ready to experience your body
like you could never have imagined!
Arguably, some of the best fun you' ll ever
Travel with us to the Chkalovsky airfield at
the Yuri Gagarin Cosmonaut Training Center
in Star City, Russia for an action- packed
journey into a world where no gravity exists!
The Il-76 MDK wide- body aircraft is a unique flying laboratory which can create
short- term weightless conditions. To achieve this, the Ilyushin follows a Kepler curve
flight pattern:
... it feels ... kind of ...... like this  :)   
brought to you in collaboration with our
partners in Russia, Country of Tourism LtD.


Experience zero gravity during a series of
parabolic flights onboard the IL-76 MDK!
1. For groups:
    book the entire load ( 14 slots ) and fly on
    a date of your choice.
2. For individuals:
    book your ticket on the next available load.
Please note:
single tickets are in high demand and we are booked out well in advance. The next single tickets are available for: 23. & 24. Nov 2017.
For event itineraries, prices, booking and FAQs - download the zero-G Flight PDF here
Flight Club Zero-gravity Flights
Zero-G parabolic flights explained
what does zero-G feel like?
flight dates & scheduling
Adventure travel - Extreme Sport - Lifestyle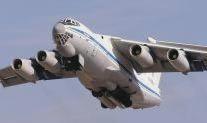 Your pilot will repeat this pattern 12 -15 times for a total of approx. 6 minutes zero- G time during your flight.
it climbs with full thrust and at a 45° angle to an altitude of approx. 20.000 ft AGL,
before taking the power out and going nose over. From that moment on, everything
and everybody inside the plane is "floating" weightlessly, that is, until about 25 sec.
later when the IL-76 is transitioning from its nose dive into yet another steep ascent
(hence the nick name "parabola flight").
While experiencing weightlessness on the downward slopes of the parabola, at the transition points from descent to ascent and during the actual climb phase, you' ll be exposed to about 2 Gs inside the cabin.