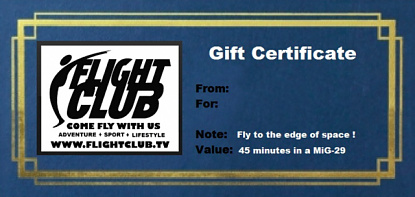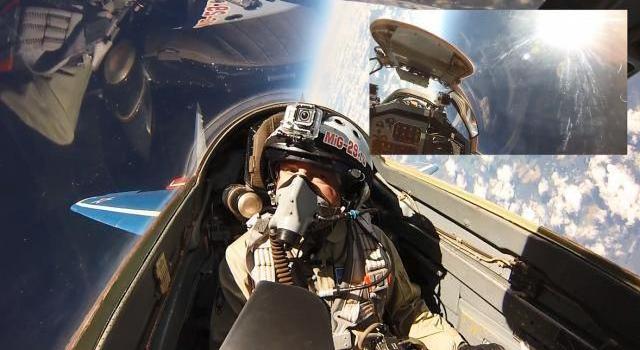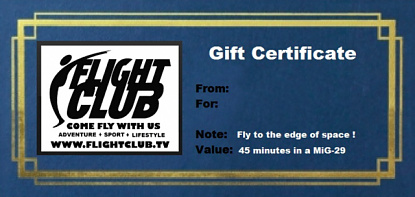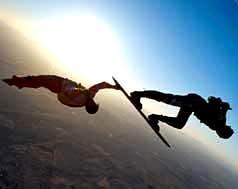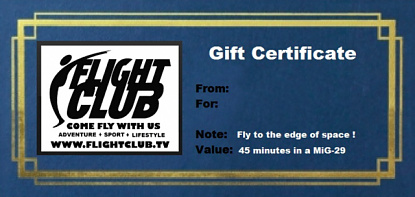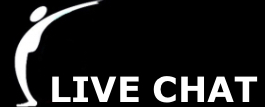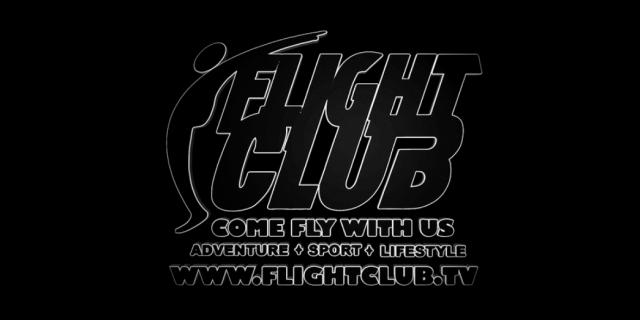 GIFT CARDS, SWEEPSTAKE PRIZES, INCENTIVES AND REWARDS
While Flight Club is not a gift company per se, and we are not aspiring to morph into one, 
there obviously are occasions when it is kind of nice to have a gift card available ;)
And so, by popular demand, here we finally are: our new page with ideas for the perfect gift for somebody special, coupons for corporate reward- and incentive programs and sweet prizes for your brand's next sweepstake campaign:
FLIGHT CLUB GIFT CARDS:
PERSONAL GIFTS
Surprise someone special with their personal VIP ticket to the experience-of-a-lifetime.
You can purchase gift cards for an array of Flight Club adventure trips and air sport events as well as for most merchandise sold in our store. 
We try to offer a healthy mix for the young and the young at heart: skydiving lessons, zero gravity flights, wind-tunnel flying for the kids and more.
Check the scroll-down menu in the inquiry form to the right for some great deals on really cool events.
FLIGHT CLUB GIFT CARDS:
CORPORATE INCENTIVE AND REWARD PROGRAM
Did you know that retainable incentives are more appreciated than cash rewards by a majority of the modern workforce? 
Are you an employer looking for effective ways to boost employee motivation when it really counts, or are you looking for a personalized way to show your appreciation for a job well done? 
Look no further! 
Check the scroll-down menu in the inquiry form to the right for some great custom incentives and rewards which are guaranteed to get the best out of your team in the future.
FLIGHT CLUB GIFT CARDS:
SWEEPSTAKE PRIZES
Are you a business owner or a marketing director looking for ways to give your brand a more exciting or more dynamic touch?
Are you trying to promote a younger feel, a livelier vibe or a keen image for your brand or establishment?
If so, why not raffle off some tickets to a zero-gravity flight or some wind-tunnel time for the kids as part of your brand-new sweepstakes campaign?
Scroll down through the menu in the inquiry form to the right for some unique sweepstake prizes guaranteed to raise brand awareness and make your campaign a success.
SELECT A FLIGHT CLUB GIFT CERTIFICATE THAT'S RIGHT FOR YOU AND SUBMIT YOUR REQUEST
For a selection of personal gifts, coupons for corporate incentive and reward programs and cool prizes for your brand 's upcoming sweepstake campaign, please scroll through the menu options of the form below.
If you find something you like, please fill in the form and submit your request. We will review your inquiry and contact you to help custom-tailor the detail of the gift card(s) according to your preferences and to answer any questions which you might have. 
Once all detail has been arranged for according to your liking, you must clear your inquiry for final processing and only then we will execute the order.