Travel with us to the world famous Sokol airbase
in Nizhny Novgorod, Russia and 
hitch a ride in the legendary MiG-29 fighter jet!
As always in Flight Club, we custom tailor our
events according to your personal preferences. 
Experience what a low level pass feels like
when you' re going 1,200 km/h & test your
metal during high speed aerobatics like rolls,
loops, tail slides and more!
The MiG-29 will take you from the runway
to 65,000 ft AGL - the edge of space. 
High enough for you to be able to confirm
for yourself that the planet is still round.
On the way back from the stratosphere, 
let your pilot show you what the MiG-29 
This is not a simulator! You' ll be in the co-pilot
seat and don't need prior flight experience.
The PDF will provide you with everything there 
is to know about your MiG-29 flight and guide you through the customization options and the booking process for your trip.
For event itineraries, prices, booking and FAQs please download the MiG-29 Flights PDF here
Book your tickets for the thrill of-a-lifetime today!
Brought to you in co- operation with our service partners at Country of Tourism Ltd. in Russia!
Many companies have been selling tickets for suborbital flights onboard concept RLVs
like the Lynx or Space Ship 2 for years. Until date, these projects remain concepts only.
Our "Edge- of- space" flight plan has been designed to simulate take- off sensations,
suborbital flight conditions and re-entry scenarios for passengers onboard RLV flights.
This is your chance to get a glimpse of what suborbital flight will actually feel like!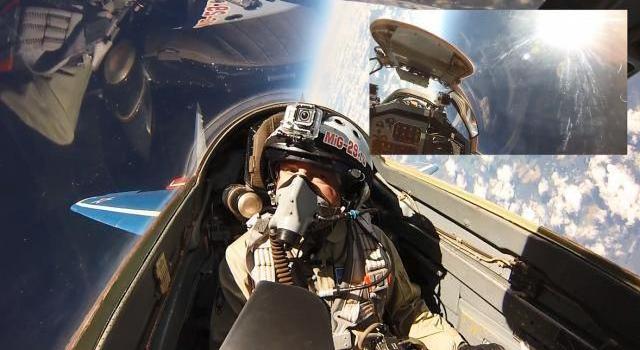 Depending mainly on your personal fitness
level, you can choose the duration of your
flight (25 or 45 min) and ask your pilot to up
or down the intensity level when performing
certain maneuvers.
Flight Club MiG-29 Fighter Jet Rides
Trip detail and itinerary
"Supersonic aerobatic flight"
Adventure travel - Extreme Sport - Lifestyle
can really do and try to keep your cool during combat aerobatics at mach 2.3! The
round trip will last 45 min & you should request an onboard camera prior to take-off!
Customize your MiG-29 flight plan! We have two different flight routines for you: 
either fly to the "edge-of-space" or engage in a hardcore "supersonic aerobatic flight".