Skydiving, wind tunnel flying, fighter jet rides,
zero-gravity flights, spaceflight training & more.
Once-in-a-lifetime experiences, custom tailored to meet your personal threshold for
action, adrenaline and excitement- designed to get the very best out of you!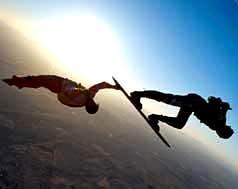 Flight Club - where the dream of flight becomes reality
coaching & mentorship
for skydivers of all
experience levels
in free-flying, RW 
and canopy piloting.
learn to fly your body
in the safe environment
of a vertical wind tunnel
indoor skydiving
simulator.
fly a MiG-29 to the
stratosphere and go supersonic at Sokol airbase in Nizhny Novgorod, Russia.
experience weightlessness
during parabolic flights
onboard an IL-76 MDK
in Star City, Russia.
courses for civilian
participants at the
Gagarin Cosmonaut
Training Center in
Star City, Russia.
Flight Club - more than just another travel agency
Flight Club members have been very successful
in pro skydiving competition since 1995.
Adventure travel - Extreme Sport - Lifestyle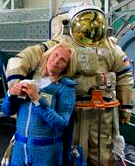 With a combined total of more than twenty US
National and World championship titles in free-
flying, formation skydiving and canopy piloting,
we are more than just another travel agency.
We are making adventure travel and extreme 
sport a lifestyle.
Enjoy roaming our pages and if
you see something you like, come
fly with us and have some fun !
Flight Club hosts unique adventure travel tours and state-of-the-art educational courses 
dedicated to air sports fans wishing to enhance
their personal development and to corporate
entities seeking innovative solutions in regards
to effective team building strategies.