Learn to fly your body in the safe environment of a vertical wind tunnel indoor free fall simulator!
Our bodyflight coaching programs are custom tailored to best suit the learner' s individual 
need, skill set and personal fitness level. 
All bodyflight sessions are being conducted in
accordance with the rules, regulations and
guidelines of Sky Venture and of the International
Bodyflight Association.

Just like a conventional 
wind tunnel used for 
testing cars, only vertical.
Technical specifications:
A 1600 hp engine powers
giant fan blades which
create wind speeds of 
up to 180 mph!
bodyflying is the art of controlling your 
body in free fall. 
Everybody starts out flying on their bellies.
Eventually though, you will be able to 
perform the same maneuvers while flying
on your back, sitting or standing in the air 
and while flying head down.
We can control the wind speeds in the flight 
chamber & you wil be flying with an instructor.
Be advised: this is an extremely addicting 
activity! Kids and pro skydivers alike tend to 
go absolutely crazy for this!
the flight chamber is 
16 ft in diameter & 
approximately 40 ft high.
Accordingly it is a very safe and indiscriminate
environment & 
virtually everybody can learn to fly there!
You can learn how to maintain a stable 
position, move forward and backwards, 
up & down, turn and go from side to side.
Fun first- time flyer experiences and peak performance coaching sessions for pro flyers and skydiving competitors.... which are also kind of fun ;)
Flight Club offers progressive skills development courses for body flight fans of any age (5-95) and of all experience levels.


Flight Club Wind tunnel flying
You want to give it a go? Contact us. Let' s fly.
Adventure travel - Extreme Sport - Lifestyle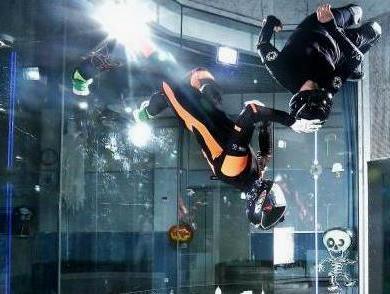 We travel worldwide and work location-independent. Accordingly, we'll fly pretty much
in any wind tunnel of your choice upon request.