Flight Club is expanding its affiliates program. 
We are looking for opportunities to establish partnership and distributor agreements with travel agencies, gift companies, event organizers and aero clubs worldwide.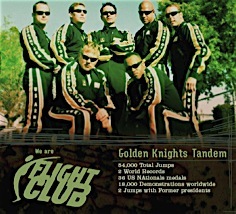 At Flight Club we have early on in our professional sports careers discovered the value which our activities have to corporate marketing campaigns of all sorts.
Flight Club Co-operation & Affiliates Program
Flight Club Corporate Programs
Adventure travel - Extreme Sport - Lifestyle
Flight Club Ltd. offers innovative solutions
for corporate entities wishing to implement effective team building strategies.
If you are looking for someone to mentor
your staff members in group dynamics and
leadership questions, why not ask a member
or coach of a national sports team?
If you are looking for someone to help your
executives with stress mangement and
anxiety control, might as well ask someone
who jumped out of an airplane 20,000 times.
Our internationally awarded pro athletes and peak performance coaches are here to help.
Are you looking for a new concept to show off your company logo in style?
Let's work on it. Look at this video 
We run state-of-the art team building and personal development programs evolving
around skydiving, wind tunnel flying and
zero-gravity parabolic flights, designed for one purpose- to get the very best out of you!
Together with our partners we work to help you design and implement creative and effective multi-media marketing strategies.
Are you looking for some publicity generating
prizes for your next sweepstakes award? 
Need some cool ideas to set up an effective incentive and rewards program to motivate your work force?
We got some cool gift ideas for you here.
Please do not hesitate to contact us with any proposals and ideas you might have.
Based on these experiences we organize fun and effective team building events and personal development courses for corporate entities worldwide.
We have also learned to appreciate how critically important the personal development
of the individual is to the overall competitiveness of a team and have a pretty keen
sense concerning psychological and sociological "do and don't'" criteria when it comes
to forging this team into a winning and sustainable entity.
We have a 20 year history of assisting our corporate partners in the development of
multi-media marketing campaigns evolving around adventure travel and extreme sport activities.